Welcome to Inzinc Training Solutions !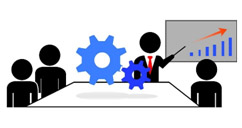 Training and development plays a vital role in fostering knowledge of personnel in an organization. Training has positive influenceson the productivity, health and safety at work and personal development of all personnel in an organization. Top Management must take cognizance of the requirement for training their employees to survive and thrive in today's competitive world.
Recognizing this need of training organizational personnel at all levels, the Inzinc Training Solutions (A division of Inzinc Products and Services) is committed to bring to your doorstep Training solutions in the field of Quality, general skills, management related and safety training. Experts with ample industry knowledge and experience shall deliver best training sessions.
We therefore request you to please contact us on +91-9379917239 or email us at its@inzinc.in for all your corporate training requirements.