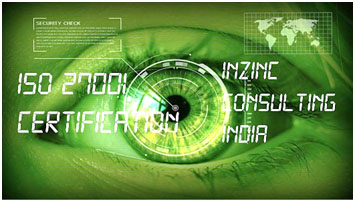 Information security in today's business plays a pivotal role in ensuring the confidentiality, integrity and availability of assets of an organization. To establish and realize the benefits of an information security management system, ISO has published the ISO 27001:2013 International standard.
The ISO/IEC 27001:2013 is an information security standard which was published on the 1stOctober 2013. This standard was published jointly by the International Organization for Standardization (ISO) and the International Electrotechnical Commission (IEC).
The ISO 27001 specifies the requirements of an information security management system (ISMS). The compliance to the ISO 27001 standard shall be determined through audit by an independent and accredited certification body. Upon successful completion of the certification audit, the Certification body awards the ISO 27001 certificate to the audited organization.
Benefits of Certification to ISO 27001
Benefits of certification to ISO 27001 are as below:
Asset Protection: The adequate protection of information assets of an organization against internal and external threats is ensured through a well-established Information Security Management System;
Increased Customer trust: The trust with customers will enhance through a well-established and maintained ISMS.
Satisfy Legal Compliance: ISO 27001 Certification will ensure compliance to applicable legal requirements, which will in turn avoid non-compliance costs and protect organization's image.
Risk Management: ISO 27001 practices ensures establishment of a broad framework for
• Identifying, analysing, evaluating and treating information security risks
• Selecting and applying suitable controls, and
• Measuring and improving their effectiveness;
Confidence of Interested Parties: Enhanced confidence of interested parties including customers, suppliers, governmental agencies, investors, media, public, etc.
Enhanced Corporate image: Establishment of ISMS helps institute best practices of Information Security and goes a long way in reducing security incidents that could destroy an organization's reputation in no time.
Marketing advantage: ISO 27001 Certification provides marketing mileage to the organization since there are better possibilities of adding new customers who may require and appreciate well-established ISMS.
Benefits of Certification to ISO 27001
Benefits of certification to ISO 27001 are as below: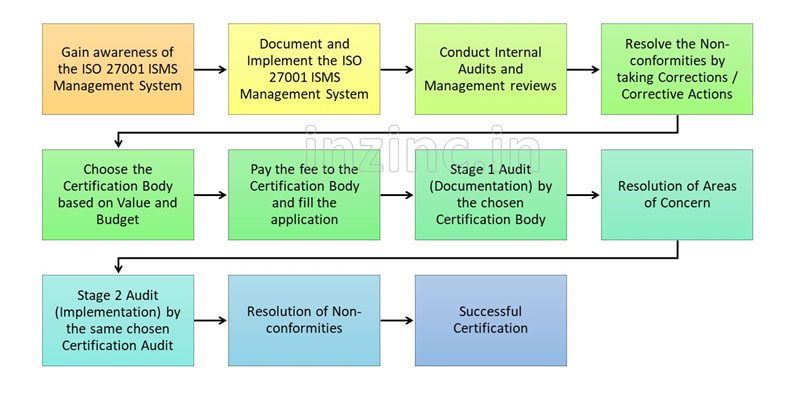 Steps to ISO 27001 Certification
Gain awareness of the ISO 27001 ISMS Management System
Document and Implement the ISO 27001 ISMS Management System
Conduct Internal Audits and Management reviews
Resolve the Non-conformities by taking Corrections / Corrective Actions
Choose the Certification Body based on Value and Budget
Pay the fee to the Certification Body and fill the application
Stage 1 Audit (Documentation) by the chosen Certification Body
Resolution of Areas of Concern
Stage 2 Audit (Implementation) by the same chosen Certification Audit
Resolution of Non-conformities
Successful Certification
ISO 27001 Certification cost
The cost of ISO 27001 Certification depends on your Customer preference (if any), your budget and the value of the Certification body that you choose.
For ISO 27001 Certification in Bangalore, Mumbai, Pune, Chennai, Delhi, Hyderabad, Kolkata, India, please call +91-9379917239 or email ic@inzinc.in