A new Occupational Health and Safety International Standard called ISO 45001 has been published by ISO in March 2018 to help organizations minimize work related injuries and ill-health. Our expert ISO 45001 Consultants in Bangalore, Karnataka, India can help your esteemed organization get certified to the ISO 45001 standard through our result-oriented consulting solutions.
What is Occupational Health and Safety ?
Occupational safety and health is concerned with the protection of the safety, health and welfare of people in work or employment. The aim of occupational safety and health programs is to foster a safe and healthy work environment.
Need for an Occupational Health and Safety Management System
As per 2017 report by the International Labour Organization (ILO), 2.78 million fatal accidents occur at work per year.
That is nearly death of 7700 persons due to work-related diseases or injuries / day !
There are 374 million non-fatal work-related injuries and illnesses every year
(Courtesy of ISO and ILO)
Hence there was a need for an International Standard to minimize these Occupational incidents.
What is ISO 45001?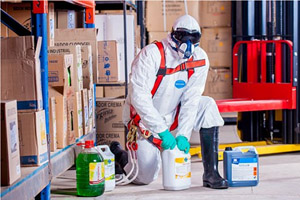 ISO 45001 is an internationally acknowledged occupational, health and safety management system standard that specifies requirements of an Occupational Health and Safety Management System (OH & S / OHSMS). These requirements helporganisations in identifying, minimising and controlling health andsafety risks in the workplace, conform to the applicable Health &Safety legislation and protect the well-being of the workforceand visitors / external contractors during operations.
The ISO 45001 standard provides framework for continually monitoring, reviewing and improving occupational health and safety.
The ISO 45001 standard is based on the Deming's PDCA Cycle.
Key features of ISO 45001 standard
Leadership & Worker Participation emphasis
Common High Level Structure (Common 10 clauses) makes integration with other ISO standards easy
Introduction to OHSRisk & Opportunity Management
Documentation to be more flexible with introduction of the term documented information
Context of the Organization – Internal / External Context becomes the basis of establishment of QMS
Needs and expectations of Interested Parties
What does our ISO 45001 consulting services include?
Our ISO 45001 consultants in India ensure that the ISO 45001 consulting services include the following
Conduct ISO 45001 gap analysis (through ISO 45001 gap analysis checklist) to understand the current level of documentation and implementation and report the gaps of the current OH&S system with the requirements specified in the ISO 45001 standard
Conduct Awareness Training on ISO 45001 basics with an interesting ISO 45001awareness presentation ppt.
Establish an occupational, health and safety policy and OHS objectives and programmes
Enlist the resources, roles, responsibilities, accountability and authority with respect to the OHSMS
Conduct Hazard Identification and Analysis of Risks and Opportunities
ISO 45001 Documentation Requirements: Document an OH&S Manual or ISO 45001 Manual, OH&S (ISO 45001) procedures, ISO 45001 Work Instructions and Forms/Formats.
Periodically Monitor the implementation of all ISO 45001 clauses
Conduct Internal Auditors training for selected organizational personnel
Help conduct the Internal Audit with the ISO 45001 audit checklistand assist in reporting the results of the audit.
Help conductManagement review and lead our client organization into ISO 45001 certification process
The benefits of ISO 45001 certification (ISO 45001 advantages)
By achieving certification to ISO 45001 your organisation will be able to obtainseveral benefits as given below:
OHS implementation minimizes the workplace incidents (accidents and near-misses)
Builds a health and safety culture which gets embedded into the Organizational Culture
Encouragement of employees to take on an active role in the OHS Management System
Reduced absenteeism and reduced employee/worker attrition due to OHS issues. This enhances productivity
Reduced Insurance cost
Enhanced leadership involvement and commitment to proactively improve OHS performance
Enables meeting legal and regulatory requirements
Enhanced reputation and employee morale.
Who must go for ISO 45001 Certification?
All organizations irrespective of its business activities who have commitment to be manage the safety and health of their employees thereby reducing ill health and minimizing occupational hazards can go for the ISO 45001 Certification.
Organizations providing products / services whose activities can have a detrimental effect on the health and safety of the personnel has to make the implementation of OH & S Management system compulsory even though ISO 45001 certification is a voluntary decision of the Organization.
What if your Organization is OHSAS 18001 Certified ?
ISO 45001:2018 replaces the OHSAS 18001:2007 standard which was the world's former requirements standard for workplace health and safety.
Organizations already certified to OHSAS 18001 will be given three years to comply with the new ISO 45001 standard from the date of release of the ISO 45001 standard
Transition from OHSAS 18001:2007 to ISO 45001:2018
The Competent consultants of Inzinc Consulting India can assist your Organization to transit from OHSAS 18001:2007 to ISO 45001:2018
Our Expert ISO 45001 Consultants in Bangalore, Karnataka, India will ensure a seamless transition from the earlier OHSAS 18001:2007 standard to the new ISO 45001:2018 standard by providing you a transition plan and ensuring the transition is complete in a timely and result-oriented way.
The ISO 45001 Transition involves developing an ISO 45001 Transition Plan, provide guidance for transition, provide ISO 45001 Transition training, ISO 45001 Transition documentation work and implementation checks to ensure minimum ISO 45001 Transition period.
Integration of ISO 45001 with other ISO standards
The new high level structure, common core text and commonalities of the Annex SL promotes easier integration of ISO 45001with other ISO standards such as ISO 9001, ISO 14001, ISO 27001, etc.
Inzinc Consulting India is one of the preferred ISO 45001 consultants in Bangalore(Bengaluru), Karnataka India, and Mysore (Mysuru), Belgaum (Belagavi), Hubli (Hubballi), Dharwad, Shimoga, Tumkur, Bellary, Mangalore (Mangaluru), Udupi, Chennai, Coimbatore, Hosur, Hyderabad, Visakhapatnam, Vizag, Mumbai, Pune, Nashik, Delhi, Kolkata, Jaipur, Bhopal, Ahmedabad, Rajkot, Noida, Indore, Chandigarh, Nagpur, Jamnagar, Vadodara, Lucknow, Kanpur, Kolhapur, Kochi, Trichy, and other parts of India.