Industrial Posters

Inzinc a Industrial Safety Poster manufacturer in Bangalore providing Industrial Posters in the finest production material.
Inzinc have a wonderful collection of industrial safety posters designs.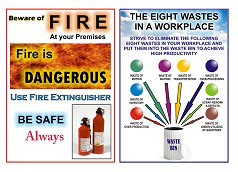 These are ready to display, high quality make and carry the strong message of workplace safety to keep your working people remind about workplace safety. Our Industrial posters come to use by many organizations who wish to prompt and encourage its employees about safety at work. These posters are useful for your factory area, offices, production area, company premises, outdoor displays and training centers.
More available posters are : safety posters, industrial posters in bangalore, fire safety posters, fire industrial safety posters, fire workplace safety posters, workplace safety posters, industrial safety posters, safety posters and many more...
5S POSTERS
The set of five posters 1S, 2S, 3S, 4S and 5S are shown below:


What is the 5S System ? (5S Methodology)
The 5S System is a Japanese system for orderly workplace organization that aims to reduce waste and optimize productivity. It involves five Japanese words starting from S - Seiri (1S), Seiton (2S), Seiso (3S), Seiketsu (4S) and Shitsuke (5S). When these words were translated to English it came out as Sort (1S), Systematic Arrangement (2S), Spic and Span or Shine (3S), Standardize (4S) and Sustain (5S). Inzinc Products and Services provides 5S Posters in India that individually captures the above 5S concepts.
Our 5S Posters in India include 1S Poster, 2S Poster, 3S Poster, 4S Poster and 5S Poster. These 5S posters in India contain information written in a simple language to help you implement the 5S system effectively. Through our 5S Posters in India, you can also train your personnel using each of the individual 5S Posters. We also have consolidated 5S poster even available as a single 5S Poster.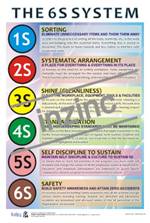 6S SYSTEM POSTER (6S POSTER)
The 5S system has now been upgraded to necessarily include the 6th "S" which is the Safety aspect. This sixth S along with the previous 5S of Sort, Systematic Arrangement, Shine (Cleanliness) , Standardization, Self-Discipline and Sustain forms the 6S System.
SAFETY POSTERS
Covers Posters such as Beware of Fire, Breathe Pure Air, Compressed Air Can Kill, Ensure Fall Protection (Safety Harness), Eyes are Precious, Forklift Safety, Gas Cylinder Safety, Is your Crane working properly ?, Live Wires and Loss of Concentration is a Deadly Combination, Protect your Ears,
Protect your Hands and Legs, Save your Head, Unsafe Practices can Burn you, Makeshift Methods can be Fatal, Mind Your Back while lifting Heavy Objects, No Machine Guard means no Lifeguard, Safety starts with you, How to use your Fire Extinguisher Rules for Safe Material Lifting, 12 Rules for Workplace safety, Zero Accidents, Rules for Safe Chemical Storage Poster (Chemical Safety Poster)
Specification : 13" x 19" soft laminated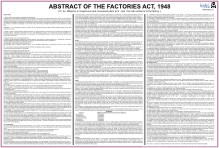 STATUTORY  POSTERS
Covers Posters such as Indian Factories Act 1948 Poster and Say Big No to Child Labour.
Specification : 13" x 19" soft laminated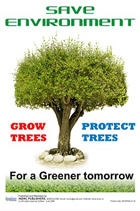 SAVE RESOURCES POSTERS
Covers Save Environment, Save Water, Save Mother Earth, Save Electricity, Save Fuel & Save Paper.
Specification : 13" x 19" soft laminated
GENERAL ENGINEERING POSTERS
Covers Posters such as Drill and Tap Chart, UNF Thread Chart, BSW Thread Chart, BSP Thread Chart, Bandsaw Blade TPI Selection, BSP Thread Chart, Periodic Table, Iron Carbon Diagram, Hardness Conversion Chart, Conversion from inches to mm & vice versa, ISO Tolerance chart for Hole Based System, ISO Tolerance Chart for Shaft Based System, Welding Symbols, Surface Roughness Chart.
Specification : 13" x 19" soft laminated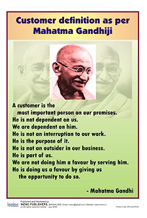 MOTIVATIONAL POSTERS
Covers Posters such as Team Work, Smile, Swami Vivekananda's Message, Customer Definition as per Mahatma Gandhiji, If you can Dream it you can do it, Journey of Thousand Miles begins with a single step, Vision and Action.
We also provide inspirational posters for office, workplace and home which includes the poster on the Nine Characteristics of Winning Teams, Hardwork is the key to Success and Growth Poster, Poster on Success, Poster on Attitude, Unity is Strength Poster, Poster on Optimist (Poster on positive thinking / Poster on Optimism), Wear a Smile Poster (with one of the good wear a smile quotes). These Motivational Posters for office, workplace help motivate the personnel in their stressful work day.
Specification : 13" x 19" soft laminated
OPERATIONAL MANAGEMENT  POSTERS
Covers 5S System, 12 Steps of Problem Solving, 16 Major Losses, Eight Wastes in a Workplace and 12 Steps of Problem Solving.
Specification : 13" x 19" soft laminated
MAINTENANCE & TPM (TOTAL PRODUCTIVE MAINTENANCE) POSTERS
Covers Posters such as the Eight Pillars of TPM and Care for your Machines. The Eight Pillars of TPM is one of the most widely used among the Total Productive Maintenance Posters.
Specification : 13" x 19" soft laminated
QUALITY MANAGEMENT RELATED POSTERS
This covers Posters such as Customer Delight, Quality is the Road to Prosperity, Seven QC Tools, The New Seven QC Tools, PDCA, 6 key Concepts of Six Sigma, Ten Commandments of Kaizen, Principles of Total Quality Management (TQM), Ask why till you arrive at the Root Cause, 14 Principles of Dr. Edwards Deming (Quality Guru).
Besides we have Priority for quality, the Key Elements of a Quality Management System, the Eight Dimensions of Quality, Quality Circles and Quality Resolution Poster (Quality does not happen by Accident Poster). Inzinc helps you to develop quality awareness by providing the above quality posters for manufacturing and quality posters for industries.
Specification : 13" x 19" soft laminated
ENVIRONMENTAL RELATED POSTERS
With the growing concerns regarding environment, awareness to protect the environment is vitally important. In this regard, Inzinc has developed Environmental awareness posters such as Causes, effects and prevention of Air Pollution and Save Environment.

Specification 13" x 19"
FIRST AID POSTERS
We present to you Informative First Aid Posters that give generic information on First Aid for various situations. The first on the list is the First Aid for Electric Shock.
INFORMATION SECURITY POSTERS (Cyber Security Posters)
Recognizing the need for Awareness on Information Security, Inzinc brings to you theInformation SecurityAwareness Posters (information security management system posters). It includes Dos' and Don'ts of Information Security, Three Main Elements of Information Security (Confidentiality, Integrity and Availability Poster)

Specification 13" x 19" soft laminated
INDUSTRIAL POSTERS IN KANNADA LANGUAGE
The Publishing Division of Inzinc Products & Services also manufacture Industrial Posters in Kannada Language.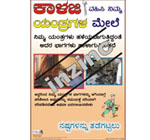 These include Safety Posters in Kannada, Quality Posters in Kannada, Save Environment Poster in Kannada, Save Water Poster in Kannada, Motivational Posters in Kannada, etc,.
5S POSTERS IN KANNADA LANGUAGE

We have designed and developed 5S Posters in Kannada Language for easy understanding to people who are comfortable with Kannada. This is a set of 5 posters namely 1S, 2S, 3S, 4S and 5S.
INDUSTRIAL POSTERS IN HINDI LANGUAGE
The Publishing Division of Inzinc Products & Services now manufactures Industrial Posters in Hindi Language.
These include Safety Posters in Hindi, Quality Posters in Hindi, Save Environment Poster in Hindi, Save Water Poster in Hindi, Motivational Posters in Hindi, etc,.
5S POSTERS IN HINDI
Inzinc Products and Services manufacture 5S Posters in Hindi Language. We are one of the few who manufacture 5S Posters in Hindi in India. Since Hindi is India's National Language, most of the people in the Organizations can today read and understand these messages and can comprehend their meaning well. If you do require 5S Posters in Hindi, call +91-9379917239 or email ip@inzinc.in
MATERIAL HANDLING POSTERS (Material Handling Safety Posters)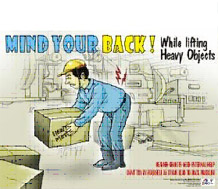 We manufacture Material Handling Posters that gives awareness about how to lift the loads or heavy objects which is very important aspect in everyday running of the industry. Our Material handling posters include Mind Your Back while lifting heavy objects, rules for safe material lifting.
HOUSEKEEPING RELATED POSTERS
We manufacture Housekeeping Related Posters that conveys the message of a neat and safe Workplace.
The Publishing division of Inzinc Products and Services can provide 5S Posters, Motivational Posters, Quality posters, save resources posters, housekeeping posters, workplace safety posters to Dubai, Sharjah, Abu Dhabi (in the UAE), UK, USA, Australia, New Zealand (NZ), Singapore, Canada, etc. We also sell factory / workplace / 5s Posters / good safety posters / industrial posters in Delhi, Mumbai, Chennai, Kolkata, Coimbatore, Mysore, Vadodara, Rajkot, Ahmedabad, Jaipur, Jamshedpur, Hyderabad, Pune, Nashik, Nagpur, Visakhapatnam, Bhubaneshwar, Raipur, Trivandrum, Cochin, Agra, Lucknow, Ludhiana, Jalandhar, Chandigarh, Gurgaon, Noida, Baddi, Bhopal, Goa, Belgaum, Shimoga, Hubli Dharwad (and other parts of Karnataka).
Just call us on +91-9379917239 or email us at ip@inzinc.in