The Publishing division of Inzinc Products and Services designs, manufactures and sells Good Quality Industrial Signboards (Industrial Signage)in Bangalore, Mumbai, Chennai, Delhi, Kolkata, Pune, Hyderabad, India in Sticker format required for various industry verticals.
Following are the various signage manufactured by us
General Safety Signages (Safety Sign Boards / Safety Signs)

These cover the various safety signs and symbols like
High Voltage Signage
Safety first sign
Fire Exit signs / Fire Exit Signage
Safety First - No Accidents sign
Caution - Noisy Area - Wear Ear Plug (Caution Noise signs)
Warning - Hard Hat Area - Wear Safety Helmet (hard hat warning sign)
Warning - Electrical Vicinity - No Storage Allowed (warning electrical signs and hazards)
Exit sign (exit signage / exit sign board)
Emergency Exit signage (Emergency exit signs)
Fire Extinguisher Sign board / signs / signage
Caution-Surface is Slippery (Slippery Surface Sign)
Caution - Hot Surface - Do not touchsign
Wear Gogglessign (Wear safety goggles sign)
Wear Gloves (Wear Hand gloves sign)
Way to Safe Assembly Point
Safe Assembly Area
In Case of Fire, use the Stairs
No Open Flames sign board
General Office Signage:
No Smoking Sign  / No smoking signage
Keep the Toilet Clean signs
Silence Please sign / Silence please signboard
Mobile Phone not  allowed in factory sign
Push / Pull sign
Please Leave Footwear Outside sign
Visitors Report to Security
Restricted Area Signage
Discussion Room (3 Nos in 1 sheet)
Department Signage
Factory Signage (Office, Drinking Water, Gents Toilet, Ladies Toilet)
Vehicles not allowed without Emission Certificate
No Eating or Drinking Allowed
Production/Maintenance Signage:
Machine Under Maintenance Signage
Machine Under BreakdownSignage
Machine Under InstallationSignage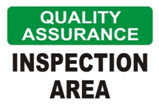 Quality Related Signage:
Quality Assurance - Inspection Area
Rejection Area
Acceptance Area
Storage Related Signage:
Work-in-process Signage
Finished Goods Signage
Raw Material Signage
Ready for Despatch Signage
Save Resources Signage
Save Electricity (21 Nos.)
Housekeeping Related Signage :
Keep the Area Clean (2 Nos. In 1 sheet)
This is your Canteen - Please keep it Clean
(Canteen Signs / Canteen Signage)

Chemical Safety Signage:
Caution - Sulphuric Acid *
Caution - Hydrochloric Acid *
Caution - Nitric Acid *
Caution - Acids/Solvents
Chemical Spillage should be immediately reported to Plant Supervisors
Information Security Signage (Cyber Security Signage):
Infosec Notice – Do not leave papers containing sensitive information near the printer
Warning – Tailgating not allowed
You are under CCTV Surveillance
Call 9341701877 or Email to ip@inzinc.in for your above Signage requirements
Inzinc Product Solutions sells Industrial Signage, Industrial Safety Signages, Information Security Signages in Bangalore, Mumbai, Delhi, Hyderabad, Ahmedabad, Pune, Kolkata, Chennai, Coimbatore, Kochi, Jaipur, Mysore, Raipur, Baddi, Lucknow, Patna, Ranchi, Vishakapatnam, Belagavi, Bhopal, Jamnagar, Bhubaneswar, Guwahati, Jamshedpur, Nagpur, Nashik, and other Indian Cities.